6 tipů jak snížit množství chlóru ve vašem bazénu
Datum zveřejnění:
Někdy se zkrátka stane, že je voda ve vašem bazénu až příliš cítit chlórem. Po koupání vás navíc pálí oči, jste unavení a malátní. Čím to může být a co se s tím dá dělat?
Chlór se do bazénové vody přidává proto, aby zničil veškeré nečistoty, které voda obsahuje. Během používání bazénu však navíc do vody přibudou organické nečistoty z těl plavců (pot, částečky kůže i třeba vlasové přípravky). Právě na tyto organické nečistoty se chlór naváže a vytvoří sloučeninu zvanou chloramin. Právě chloraminy jsou příčinou chlórového zápachu, pálení očí a dalších nepříjemností.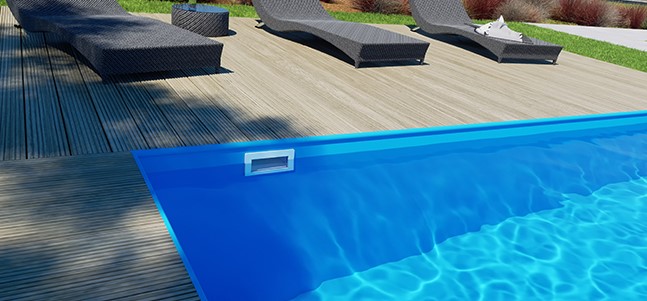 Co může způsobit přemíra chlóru?
Ačkoli jej na dezinfikování vody používáme již drahnou dobu, je chlór ve své podstatě jedovatá látka. Z bazénové vody nám hrozí nebezpečí právě od chloraminů. Ty mohou vyvolat nejen ekzémy a vyrážky, ale i astma a další dýchací potíže, u žen pak kvasinkové infekce.
Další škody páchá i z estetického hlediska – vysušuje a ničí vlasy, narušuje pokožku a tím prodlužuje dobu potřebnou k opálení. Po pobytu v nadměrně chlórované vodě můžete mít také lámavé nebo roztřepené nehty.
Eliminujte příčiny zvýšeného množství chlóru
Vůbec nejlepší je hromadění chlóru v bazénu předcházet. A to tím, že se vyhnete situacím, které jeho kumulaci napomáhají.
1) Zastřešený nebo přikrytý bazén
Chlór ve vodě odbourává teplo a sluneční záření. Pokud byl váš bazén dlouho zakrytý nebo schovaný pod zastřešením, neměl chlór kam vyprchat. Zkuste tedy bazén odkrýt a nechat vyvětrat.
2) Příliš vysoké pH vody
Při hodnotách pH vody vyšších než 7,6 se vázaný chlór tvoří daleko rychleji. S hodnotami blížícími se 8 pak vzniká i nebezpečí zanesení filtru vápenatými usazeninami. I opačný extrém má svá rizika – při hodnotách pH pod 7,2 vznikají další sloučeniny chlóru (tzv. monochloraminy), které oči i pokožku dráždí také. U nízkého pH vzniká také riziko korodování kovových částí bazénu, blednutí barev atd.
3) Špatně uskladněné tablety
Pokud používáte do bazénu chlórové tablety, nikdy je nenechávejte příliš dlouho ve skimmeru, především při vypnutém čerpadle. Vysoká koncentrace chlóru by mohla veškerou technologii nenávratně poškodit.
Pomocné praktiky ke snížení chlóru
Kromě výše zmíněných doporučení existují samozřejmě i další metody, jak se přílišného množství chlóru v bazénu zbavit.
4) Jděte na to chemicky
Jedním z možných řešení je vzít si na pomoc chemické přípravky. Na trhu je jich celá řada – od těch, které ovlivňují pH vody přes neutralizátory chlóru, až k přípravkům na superchloraci (metoda, která zničí vázaný chlór ve vodě).
5) Jděte na to mechanicky
Odbourávání chlóru pomůže také provzdušňování vody. Můžete si pořídit například vzduchovací trysky nebo vodotrysk. Další variantou je pak nová náplň do vodního filtru – v ideálním případě by měla obsahovat aktivní uhlí, které pohltí všechny nežádoucí chlórové sloučeniny.
6) Jděte na to chytře
Vůbec nejlepší proti přílišnému množství chlóru je změna způsobu úpravy bazénové vody. Možností máte k dispozici hned několik: můžete použít ionizátor, UV lampu nebo solničku. O výhodách UV lampy i o slané úpravě vody jsme pro vás již dříve napsali články.