Zazimování bazénu? S naším návodem to bude hračka!
Datum zveřejnění:
K tomu, aby bazén dobře fungoval i další sezónu, je nutné jej důkladně připravit na zimu. Pokud plánujete zazimování sami, přinášíme Vám jednoduchý návod, jak tento důležitý úkon provést co nejlépe a bez chyb. Tak jen do toho!
V tomto případě je zazimování bazénu snadná záležitost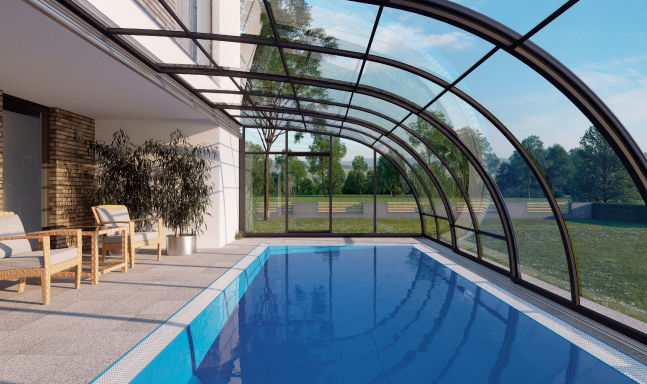 Bazén je pro jeho zazimování vhodný tehdy, klesla-li teplota bazénové vody pod 10 °C. Celý bazén by měl být naprosto čistý, stejně tak jako voda v něm.
Jak je uvedeno výše, celý bazén musí být před jeho zazimováním perfektně čistý. Proto prvním krokem celého procesu zazimování je vyčištění bazénové vody a vyluxování stěn a dna bazénu.
Nyní následuje proplach filtru pomocí funkce "Proplach", přičemž tato funkce je součástí šesticestného ventilu, který naleznete ve filtrační nádobě. Doporučujeme nechat "Proplach" běžet delší dobu, aby byl filtrační písek zcela propláchnutý. O tom, že je již písek perfektně čistý, se přesvědčíte pohledem na vypouštěnou vodu, která musí být krásně čirá. Není-li Váš šesticestný ventil připojen k odpadnímu potrubí, je pak nutné pro odvod odtékající vody použít například hadici z vysavače, kterou je důležité pevně utáhnout.
V tento moment přichází na řadu upravení pH bazénové vody na ideální hodnotu, která se pohybuje od 7,2 do 7,6.
Vyndejte ze skimmeru košík na hrubé nečistoty a koncovku hadice od vysavače připojte do dna skimmeru, které je vybaveno závitem. Ovšem nemá-li Váš bazén skimmer s nástavcem, ani s tzv. hadicovým trnem, připojte koncovku hadice přímo k odsávání skimmeru. Pro další odpuštění vody pak můžete využít funkce šesticestného ventilu, a to konkrétně funkci "Odpad".
Nutné je snížit výšku hladiny vody pod veškeré namontované doplňky, jako jsou trysky, skimmer či hlava protiproudu. Máte-li bazén s vestavěným schodištěm, odčerpejte vodu na úroveň 2. schodu.
Takové večery naznačují, že koupání v bazénu odzvonilo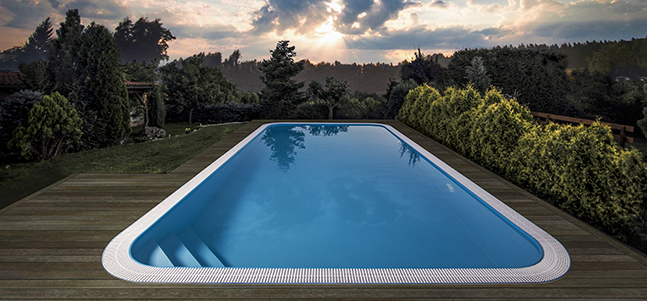 Máte-li ve svém bazénu světlo či reflektor, nyní se pusťte do jeho demontování. Vyjměte středový plastový rámeček, pod kterým je i samořezný šroub. Ten vyšroubujte, nakloňte tělo světla směrem do bazénu a světlo jemně vyndejte. Nyní již zbývá jen uvolnit připojovací kabel a poté světlo zcela vyndat.
Zapomenout nesmíte ani na schůdky či žebřík, které je nyní nutno vyndat a ošetřit speciálním přípravkem Silichrom.
V tomto okamžiku je již bazénová voda odpuštěná a přichází na řadu dpuštění filtrační nádoby. Ve spodním dílu této nádoby se nacházejí 2 vypouštěcí šrouby. Ten menší, sloužící pro vypuštění vody, povolte. Větší pak v žádném případě neuvolňujte, ten je určen pro výměnu filtračního média.
Vypouštění filtrační nádoby lze však udělat i jinak. Rozpojte šroubové spoje u šesticestného ventilu, uvolněte matku a celý ventil vyjměte směrem vzhůru. Zároveň otočte pákou ventilu do mezipolohy, což je poloha mezi jednotlivými funkcemi. Nyní s pomocí vysavače vysajte vodu z filtrační nádoby.
Důležité je nechat vyšroubovaný vypouštěcí šroub po celou zimu. Vhodné je rovněž demontovat manometr tlaku, jelikož by mohlo dojít k jeho poškození. Do filtrační nádoby s pískem nyní nalijte dezinfekční prostředek.
Nezapomeňte také na čerpadlo, které uschovejte na suchém a teplém místě. Pokud budete čerpadlo nechávat v šachtě (strojovně), vyšroubujte vypouštěcí šroub, odšroubujte víko vlasového filtru a vyjměte těsnění.
Je-li součástí Vašeho bazénu protiproud, nyní je vhodné jej rovněž zazimovat. Vyšroubujte tedy opět vypouštěcí šroub na spodní straně těla čerpadla a odpojte sání ze strany vlastního čerpadla. Důležité je nechat otevřené uzavírací ventily. Pokud chcete, aby Váš protiproud fungoval dobře i další sezónu, přesvědčte se, že v něm nezůstala voda a že jsou všechna potrubí bez problémů průchodná.
Nyní již stačí jen zabránit zamrzání vody, která v bazénu zůstala. Toho docílíte pomocí dilatačních plováků, které úhlopříčně rozprostřete na hladinu bazénu. Kupříkladu pro bazén o rozměrech 3x6 metrů je třeba 10 až 12 takovýchto plováků.
Jsme na samotném konci zazimování Vašeho bazénu. Posledním krokem je již pouhá aplikace zazimovacího roztoku do bazénové vody, kdy postupujte dle návodu uvedeného na obalu.
Nyní nám nezbývá nic jiného než popřát Vám u zazimování Vašeho bazénu hodně štěstí!
Ovšem pokud si na zazimování Vašeho bazénu po přečtení našeho návodu netroufáte, kontaktujte našeho profesionálně vyškoleného technika, který Vám se zazimováním bazénu velice rád pomůže. Využít můžete telefonních čísel +420 251 094 513 , +420 251 094 518 nebo se na něj obraťte prostřednictvím e-mailové adresy servis@albixon.cz.