Jak se správně postarat o svůj bazén?
Datum zveřejnění:
Stačí jen trocha údržby a váš bazén na zahradě bude vypadat stejně idylicky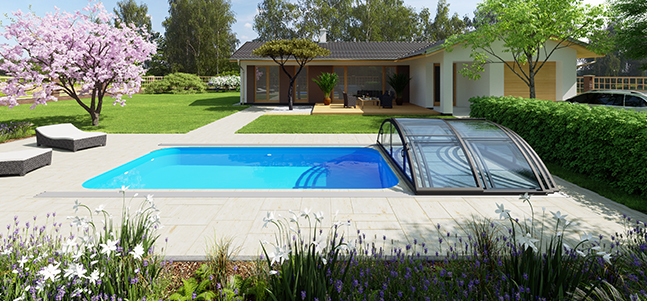 Péče o bazén jako takový
Hned v úvodu je bezesporu nutné říci, že je důležité o bazén pečovat průběžně! A to po celou dobu jeho provozu. To samé pak platí i o okolí bazénu, které musí být rovněž čisté a uklizené.

Pro samotnou údržbu bazénu je pak vhodné používat běžné nebo speciální mycí a dezinfekční prostředky. A to buď se zvýšeným účinkem, anebo alkalické a desinfekční prostředky renomovaných firem. Dobré je rovněž zakoupit krycí plachtu, která zabraňuje zanášení nečistot do bazénové vody. Vyhnete se tak nepříjemnému a navíc zbytečnému vyndávání mechanických nečistot z vody. V případě krycí solární plachty se pak dočkáte za příznivého počasí také neustále teplé vody v bazénu.
Údržba bazénové vody
Pro údržbu bazénové vody je velmi dobré používat tzv. trojkombinační tablety. Tyto pomalu se rozpouštějící tabletky jsou kombinací chlóru, vločkovače, který sráží nečistoty, a přípravku proti řasám. Nepatrné částice, které jsou při nedostatečné údržbě původcem zákalu ve vodě, je vhodné zachycovat pomocí molitanového filtru, nikoliv pomocí filtru pískového. Na drobná smítka je rovněž dobrý již zmíněný "vločkovač", který z nich utvoří větší a viditelnější shluky, jež pak klesnou ke dnu a lze je velmi snadno vysát pomocí vodního vysavače nebo je zachytí filtr.
Utvořil-li se mírný zákal vody i Vám, vsypte vločkovač do skimmeru a filtrační zařízení nechte zapnuté. Je-li však zákal ve Vašem bazénu silný, rozpusťte vločkovač v teplé vodě a rovnoměrně jej rozlijte po hladině. Zároveň vypněte filtraci, aby mohly shluky klesnout ke dnu.