Porovnání zapuštěného bazénu s nadzemním bazénem
Datum zveřejnění:
Léto se blíží! Přinášíme praktické srovnání výhod i nevýhod nadzemních a zapuštěných bazénů.
Rádi byste si pořídili bazén nový nebo plánujete výměnu Vašeho současného? Investice v podobě koupě nového bazénu si zaslouží promyslet do detailu, aby všechna očekávání skutečně naplnila. Abychom vám rozhodování co nejvíce usnadnili, připravili jsme pro vás užitečné tipy a poznatky z praxe provozování jednotlivých typů bazénů.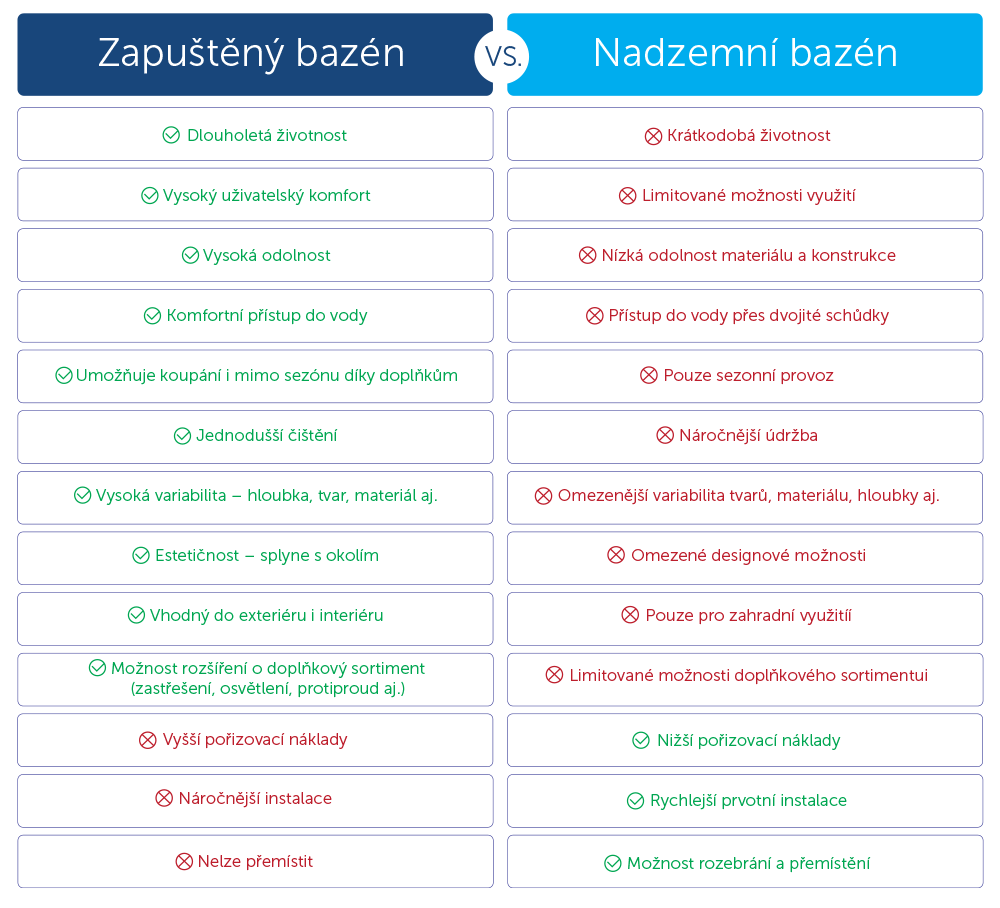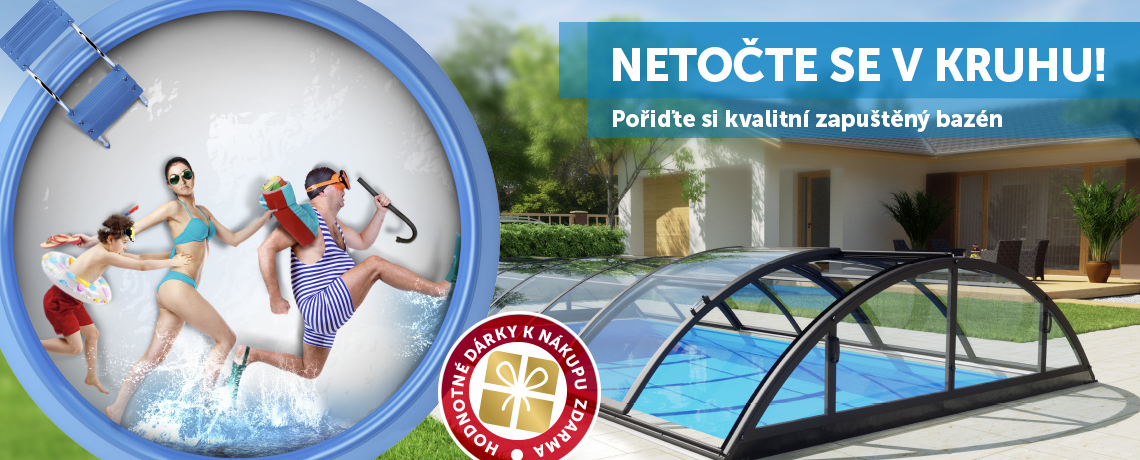 Nadzemní bazény patří k časté volbě, a to především z důvodu nízké pořizovací ceny (řádově v rozmezí 2.000 – 20.000 CZK) a snadné instalaci, která nevyžaduje speciální terénní úpravy Vaší zahrady. Stačí pouze kus rovné plochy. Nadzemní bazén se dá poměrně jednoduše přemístit a na konci sezony je možné ho demontovat. Nebudeme však zastírat, že užívaní a údržba nadzemního bazénu nemá svá úskalí. V první řadě se jedná spíše o ochlazovací bazének a místo, kde se vyřádí Vaše děti, o skutečném plavání nemůže být bohužel ani řeč. Nadzemní bazén není pro tento účel dostatečně hluboký a ani výběr velikostí Vás nijak neohromí. Získáte zkrátka unifikovaný produkt bez možnosti volby. Dále jsou nadzemní bazény náročné na údržbu, která musí být pro jejich oválný tvar prováděna ručně a za použití značného množství ošetřující chemie. Z hlediska životnosti se jedná o spotřební zboží, které Vám poslouží nanejvýš několik sezón. V neposlední řadě se jedná o velmi neestetickou dominantu, která bude vždy spíš překážet něž velebit Vaši zahradu.
Zapuštěné bazény oproti tomu představují úplně opačný pól komfortu a estetického zážitku. V první řadě se jedná o projekt, který je navržený přímo na míru Vašim požadavkům. Volíte rozměry, hloubku i způsob technického řešení. S tím samozřejmě souvisí i nutné stavební úpravy. Zapuštěný bazén se tak stává integrální součástí a ozdobou Vaší zahrady, která splývá s terénem a zvelebuje své okolí.
Jedná se o dlouhodobou investici. Zabudovaný bazén má samozřejmě mnohaletou životnost a při správné údržbě Vám bude dobře a spolehlivě sloužit.
Váš rodinný bazén na míru je nejen ochlazovací zónou pro dovádění Vašich dětí, ale můžete jej využít i pro regulérní sportovní vyžití, např. při instalaci zabudovaného systému protiproudu. Není nad to udržovat pravidelně svou plaveckou i celkovou kondici z bezpečí vlastního bazénu, kde nehrozí rizika charakteristická pro veřejná koupaliště.
Mnohonásobně vyšší uživatelský komfort, možnosti využití i celkový elegantní vzhled nenarušující linie Vaší zahrady – všechny tyto aspekty musí být zákonitě vyváženy vyšší pořizovací cenou (projekt zpravidla od 50 000 CZK). Vstupní náklady jsou však bohatě vyváženy nezměrným komfortem, elegancí provedení a možnostmi využití, kterými zabudované bazény obohatí Váš život i volnočasové aktivity Vaší rodiny.
Vzhledem k tomu, že vybudování tohoto typu bazénu vyžaduje terénní úpravy Vaší zahrady, je třeba počítat s delší dobou realizace projektu a samozřejmě i s větší prostorovou náročností. Obojí se Vám však mnohonásobně vyplatí.
Možností je nespočet. Ať si vyberete bazén typu přelivového, skimmerového (který odvádí znečištěnou vodu pomocí tzv. skimmeru – odtokového prostoru ve stěně bazénu) nebo bazén vypláštěný těžkou fólií (nejlépe se přizpůsobí požadavkům na specifické tvary na přání zákazníka), neuděláte nikdy chybu a přinesete do svého života nový rozměr komfortu, zábavy a příjemného sportovního vyžití, které je vždy na dosah ruky.
V případě zájmu neváhejte kontaktovat náš tým zkušených odborníků, kteří Vám ochotně zodpoví veškeré dotazy a pomohou s kvalifikovaným řešením přesně na míru Vašim požadavkům.