Najděte inspiraci na tu nejlepší halloweenskou party u svého bazénu!
Datum zveřejnění: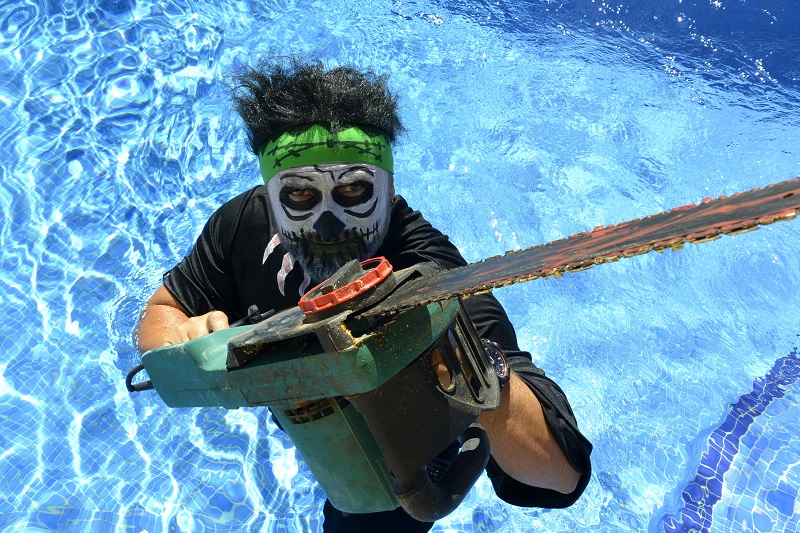 Halloween je sice západní svátek, ale svou oblibu si už našel i v Česku. Chystáte se letos využít tento den pro uspořádání skvělé halloweenské party u bazénu?
Inspirujte se našimi nápady a tipy, jak se originálně zabavit!
Když všem ze strachu vyhládne
Jídlo tvoří základ každé dobré party. Doporučujeme jej vždy plánovat dopředu. Rozmyslete si, co hostům na Halloween nabídnete. Bude to něco sladkého na zub, nebo pořádný krvavý steak? Občerstvení pak slaďte k celkové atmosféře večera.
Můžete nakoupit i hotové laskominy, které se k tématu děsu skvěle hodí. Oblíbenou dekorací a pamlskem jsou například upíří zuby, které potom, až se s nimi pěkně zabavíte, můžete sníst jako dezert. Podobně dobře zafungují třeba i gumoví červi nebo oční bulvy s červenou náplní. Výrobci gumových bonbonů zkrátka ví, co děti baví.
Jak to provést s kostýmem?
Bez kostýmu by to na halloweenské party u bazénu nešlo. Vždyť je to půlka celé legrace! Ať už na něj zakomponujete své plavky, hračky z bazénu nebo se obléknete za nějakého slavného plavce, i minimální snaha se cení. Inspirovat se ale můžete i našimi tipy bazénových kostýmů, které se hodí nejen pro děti, ale i pro dospělé:
Kostým potápěče – Vytvoříte ho snadno, když využijete velkou prázdnou PET lahev, která skvěle poslouží jako kyslíková bomba. K tomu přidejte potápěčské brýle a pár dalších rekvizit, které určitě máte doma a je to!
Kostým tarantule – Válí se vám kolem bazénu několik pěnových žížal do vody, které tam zbyly od letního dovádění ve vodě? Využijte je na nohy tarantule! Strašidelnějšího efektu pak dosáhnete s černými pěnovými tyčemi. K tomu se stačí obléct do černa, trochu přimalovat obličej a můžete vyrazit na party za pavouka.
Medúza – Pokud vám nevadí nosit s sebou celý večer starý deštník, vytvořte si z něj skvělý kostým medúzy. Za okraje zavěsíte dlouhé pruhy splývavé látky a rázem z vás bude mořská medúza jako vyšitá.
Pokud se vám nechce u bazénu držet téma spojené s vodou, oblečte se do některých z široce populárních halloweenských masek. Vůbec nejoblíbenějším kostýmem všech dob je zlá čarodějnice. Úspěch se ale drží také u hororových postav, jako je třeba zabijácká panenka Chucky. Mezi další oblíbené kostýmy na Halloween patří třeba králík, dinosaurus, Spider-Man nebo děsivý klaun.
Aktivity na halloweenskou party
Poslední, co zbývá vymyslet je, co budete s přáteli či rodinou u bazénu na Halloween dělat. Připravit si můžete všechno od tancování na písničky z hororů přes výrobu strašidelných loutek nebo dlabání dýní až po celou řadu společenských her.
Pokud se vám nechce shánět pro každého dýni, dejte hostům za úkol přinést si svou vlastní. Dýně pak můžete vydlabat společně nebo jen vyhlásit vítěze nejhezčí předem vydlabané dýně. Všechny kousky pak můžete využít i jako skvělou dekoraci své party, která jí hned dodá tu správnou strašidelnou atmosféru. 
Udělejte si také žebříček svých nejoblíbenějších strašidelných filmů a dejte hlasovat o tom, jaký si společně pustíte. Není nad to vysílat na bazénové party přes projektor film na velkém plátně a udělat si soukromé halloweenské kino!
Užijte si Halloween se svými blízkými a vytvořte si další skvělou vzpomínku na čas strávený u svého bazénu!