5 důvodů, proč je plavání tím nejlepším sportem na spalování kalorií
Datum zveřejnění: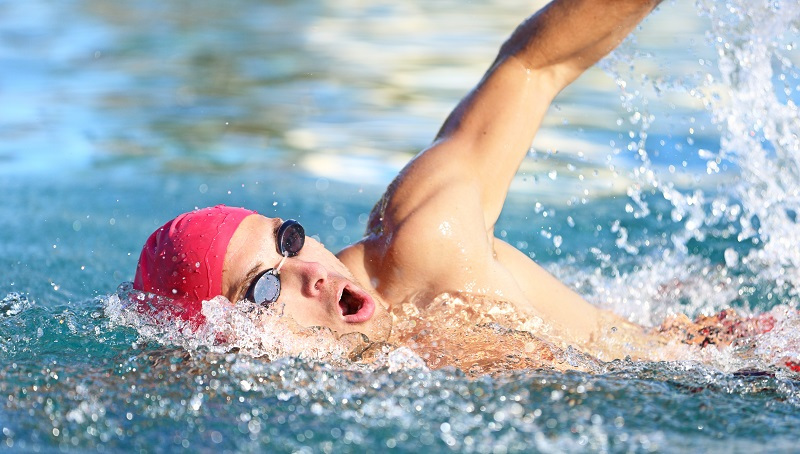 Je pro vás plavání spíše relaxací a zábavou, při které si užíváte příjemné nadnášení vodou a sluneční paprsky? Při plavání si však můžete nejen odpočinout od pracovního shonu a stresu, ale také posílit svoje tělo a rychle i efektivně zhubnout do plavek.
Pravidelným plaváním ve vlastním bazénu s protiproudem děláte to nejlepší pro své zdraví a fyzickou i psychickou kondici. Udělejte si z něj ranní či večerní rituál, kterému se budete věnovat několikrát týdně, a uvidíte, jak snadno plaváním spálíte kalorie a zformujete si postavu.
1. Plavání: Sport vhodný téměř pro každého
Při běhu na zpevněném povrchu se vaše klouby a páteř musejí neustále vyrovnávat s otřesy, které mohou vést k bolesti či zranění. Díky nadnášejícímu vodnímu prostředí je však plavání pro celý pohybový aparát nanejvýš šetrné a můžete si ho proto užívat i v případě, že vás trápí artritida nebo bolest kloubů či páteře. Překážkou není ani těhotenství, nadváha, vysoký věk či špatná fyzická kondice – plavání je vhodné dokonce i při rehabilitaci po úrazech či operacích pohybového aparátu.
2. Při plavání si zacvičí doslova celé vaše tělo
Plavání je komplexním sportem, během kterého rovnoměrně namáháte a procvičujete všechny svalové skupiny, a to zejména pokud střídáte různé plavecké styly. Nemusíte se tedy obávat nezdravého jednostranného přetížení, které může být problémem například při běhání nebo hraní tenisu. Věnujte však pozornost správnému držení těla a naučte se vydechovat do vody, abyste při plavání zbytečně nezatěžovali krční a bederní páteř.
3. Ve vodě spalujete kalorie efektivněji než na souši
Protože musíte během plavání překonávat odpor vodního prostředí, posilujete při každém pohybu svaly daleko efektivněji a spálíte až pětkrát více kalorií než na souši. V závislosti na své váze a plaveckém stylu tak můžete za jednu hodinu plavání spálit až tisíc kalorií, což je více než například při hodinové jízdě na kole.
4. Plavání – kardio i silový trénink v jednom
Pravidelné plavání je vynikajícím způsobem, jak si posílit kardiovaskulární systém a zvýšit vitální kapacitu plic. Už samotný pohyb proti odporu vody působí povzbudivě na váš krevní oběh a příznivě tak ovlivňuje krevní tlak i zdraví vašeho srdce.
5. Plavání pomáhá v boji se stresem a zlepšuje náladu
O příznivém vlivu pobytu ve vodě na vaši psychiku se můžete přesvědčit nejen v lázních, ale i ve svém vlastním bazénu. Příjemný pocit, který zažíváte při nadnášení vodou, vám spolu s uklidňujícím výhledem do zahrady napomáhá odplavit stres a zrelaxovat mysl.
Jak zhubnout plaváním? Stačí jedna hodina třikrát týdně
Pravidelným plaváním můžete snadno zhubnout do plavek už za jeden či dva měsíce. Protože se při aerobním sportování začnou spalovat tuky až přibližně po půl hodině, je důležité věnovat se plavání minimálně hodinu. Začněte krátkou rozcvičkou na souši, zaměřenou na protažení zad, rukou, ramen a nohou. Pak zapněte protiproud na nižší výkon a rozehřejte se několikaminutovým pomalejším plaváním.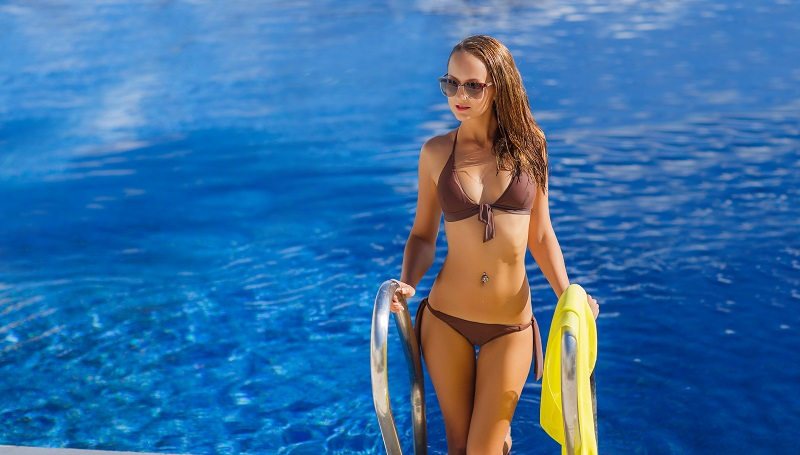 Potom zvyšte sílu odporu vody a začněte plavat tempem, které bude dostatečně vysoké, ale zároveň vás příliš brzy neunaví. V ideálním případě byste měli plavat tak, abyste se pohybovali na 60-70 % vašeho maxima tepové frekvence. Pokud nevydržíte plavat celou hodinu, můžete plavání střídat s cvičením aqua fitness.
Víte, jak správně plavat? Důležitá je i teplota vody
Množství kalorií, které při plavání spálíte, závisí i na zdánlivém detailu, jako je teplota bazénové vody. Při pobytu v příliš studené vodě bude mít vaše tělo tendenci ukládat si tukové zásoby na ochranu před chladem a nebude tudíž kalorie spalovat tolik účinně. Plaváním ve vodě teplejší než třicet stupňů byste se naopak rychle unavili a nepohybovali se dostatečně dlouhou dobu v aerobním pásmu, ve kterém dochází ke spalování tukových zásob.
Jak jste se dočetli výše, bazén může zcela nahradit různá sportoviště. Výhodou je i to, že bazén máte na své zahradě. Pokud ještě protiproud nemáte, prohlédněte si oddělení protiproudy.